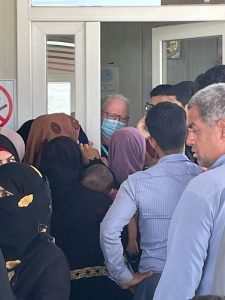 I am writing from the Kurdish region of Iraq – a place that has known little peace for so long.
Nonetheless, I am with people who love peace and seek peace. Their slogan is "waging peace in a broken world." They are younger Kurds who are working for a very different future than their parents or grandparents had.
The Kurdish people have lived in a world of UNpeace for centuries, mostly recently under the regime of Saddam Hussein who repeatedly used chemical weapons against them. Today there is strife and unrest all around the Kurdish region –
To the east, young Iranians are rising up against a repressive regime

To the north, Ukrainians are fighting the largest land war since World War 2 against an invading Russian army

To the west and south, Iraqis are rising up against their government in an ongoing sectarian feud
Westerners sometimes believe we have the answers for the world's problems. We have to be the "smartest people in the room." And we often believe we are. However, in the Middle East we are often the
last
people to enter the room and we surely know the least about the problems of this part of the world.
The notion of peace – shalom in Hebrew and Salem in Arabic – is so much more nuanced .. and subtle … and intricate than the latest political or military strategy. It has much more to do with the
lived experiences of people serving others.
Shalom spreads in the midst of a refugee camp where we meet people in distress and enter into their world. And in subtle ways we show God's love to them.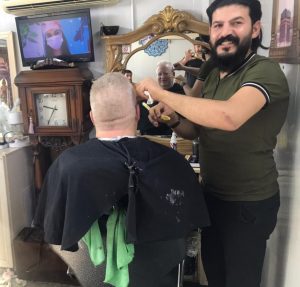 Yesterday I got my hair cut by a guy named Ibraham who is from another part of Iraq and is now living in the Ashti IDP Camp. He is rebuilding his life as best he can in the midst of his world being turned upside down.
This morning as we were opening the medical clinic there was quite a crowd gathered outside. I think they know tomorrow is the last day of the clinic and that they need to try to get an appointment. I spent time with our Kurdish staff to organize people, get them registered, and offer a cup of water while they waited in 90 degree heat. It was admittedly a small gesture.
And such is the work of peacemaking – many, many small gestures to help people take their next step in life.
http://www.isaac-ishmael.us/wp-content/uploads/2019/08/Jew_Walking.jpg
421
640
Brian Newman
/wp-content/uploads/2018/05/Isaac-Ishmael-logo.png
Brian Newman
2022-11-30 06:50:28
2022-11-30 07:02:12
Learning Peace From a Land With Little of It